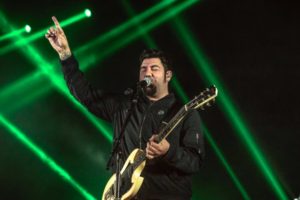 The band Deftones announced their Summer tour dates for this year!
Sacramento, California based rock band, the Deftones announced their summer tour dates with a whole new run set for August! Making some of these dates even more unmissable, Swedish hardcore legends Refused will join in for the first part of the jaunt.
Deftones fans have been seething for the band's upcoming eighth studio album, Gore. We've already heard the powerful new tracks "Prayers / Triangles" and "Doomed User," and all of the patient waiting has finally come to an end as of April 8 so we can now hear Gore in all its gore-y. Deftones also performmed on Jimmy Kimmel Live! on April 12, so we hope you were able to catch that awesome performance!
Refused will embark on a number of August tour dates with Deftones. Still energized by the band's first new album in 17 years, Freedom, Refused will be busy touring by the time summer starts to roll in.
Check out Deftones and Refused's full lists of tour dates below! Tickets for the acts' joint tour dates went on sale April 1st. Hope you snatched a pair up for yourself!
Deftones Official Summer 2016 Tour Dates:
May 8th – Concord, N.C. @ Carolina Rebellion
May 10th – Memphis, Tenn. @ Minglewood Hall
May 11th – Nashville, Tenn. @ Ryman Auditorium
May 13th – Pompano Beach, Fla. @ Pompano Beach Amphitheatre
May 14th – Lake Buena Vista, Fla. @ House of Blues
May 15th – Atlanta, Ga. @ Shaky Knees Festival
May 17th – St. Augustine, Fla. @ St. Augustine Amphitheatre
May 18th – New Orleans, La. @ Orpheum Theatre
May 20th – Kansas City, Mo. @ Uptown Theatre
May 21st – Maryland Heights, Mo. @ KPNT Pointfest
May 22nd – Columbus, Ohio @ Rock on the Range
May 24th – Sioux Falls, S.D .@ The District
May 25th – Wichita, Kansas @ Cotillion Ballroom
May 26th – Oklahoma City, Okla. @ Criterion Theater
May 28th – El Paso, Texas @ Neon Desert Festival
June 3rd – London, UK @ The SSE Arena Wembley
June 4th – Mendig, Germany @ Rock AM Ring
June 5th – Nürnberg, Germany @ Rock IM Park
June 10th – Paris, France @ Download Festival
June 11th – Derby, UK @ Download Festival
June 14th – Cologne, Germany @ Palladium
June 15th – Berlin, Germany @ Columbiahalle
June 17th – Aarhus, Denmark @ NorthSide Festival
June 18th – Reykjavik, Iceland @ Secret Solstice
August 2nd – Bethlehem, Pa. @ Sands Bethlehem Event Center (With Refused)
August 3rd – Baltimore, Md. @ Pier Six Concert Pavilion (With Refused)
August 5th – Brooklyn, N.Y. @ Coney Island Amphitheater (With Refused)
August 6th – Philadelphia, Pa. @ Festival Pier at Penn's Landing (With Refused)
August 7th – Uncasville, Conn. @ Mohegan Sun Arena (With Refused)
August 9th – Boston, Mass. @ Blue Hills Bank Pavilion (With Refused)
August 10th – Asbury Park, N.J. @ Stone Pony Summerstage (With Refused)
August 12th – Sterling Heights, Mich. @ Freedom Hill Amphitheatre (With Refused)
August 16th – St. Paul, Minn. @ Myth
August 17th – Clive, Iowa @ Seven Flags Event Center
August 18th – Tulsa, Okla. @ Brady Theater
August 20th – Magna, Utah @ Saltair Resort Main Pavilion
August 23rd – Fresno, Calif. @ Woodward Park – Summer Concerts
August 24th – Los Angeles, Calif. @ Greek Theatre
August 25th – Berkeley, Calif. @ Greek Theatre
August 30th – Las Vegas, Nev. @ The Joint
August 31st – Mesa, Ariz. @ Mesa Amphitheatre
Refused Previously Announced 2016 U.S. Tour Dates:
May 26th – San Francisco, Calif. @ The Fillmore
May 27th – Los Angeles, Calif. @ The Fonda Theatre
May 28th – Pomona, Calif. @ The Glass House
May 30th – Solana Beach, Calif. @ Belly Up
May 31st – Tucson, Ariz. @ Rialto Theatre
June 1st – Albuquerque, N.M. @ Sunshine Theatre
June 3rd – Dallas, Texas @ Trees
June 4th – Houston, Texas @ Houston Free Press Summer Festival
June 5th – Austin, Texas @ Mohawk
June 7th – Jacksonville, Fla. @ Mavericks at the Landing
June 8th – Fort Lauderdale, Fla. @ Revolution
June 9th – Orlando, Fla. @ The Beacham Theater
Source: LoudWire