Sway Calloway helps pave the road to success to those who are incarcerated!
Radio and t.v. personality, Sway Calloway continues to bring positivity and inspiration to our local communities. For his latest endeavor, Sway Calloway helps pave the road to success for the thousands of people who are currently incarcerated. He's joined The Last Mile as a board of director along side John Hamm, MC Hammer, Chrisfino Kenyatta Leal and the co-founders, Chris Redlitz and Beverly Parenti.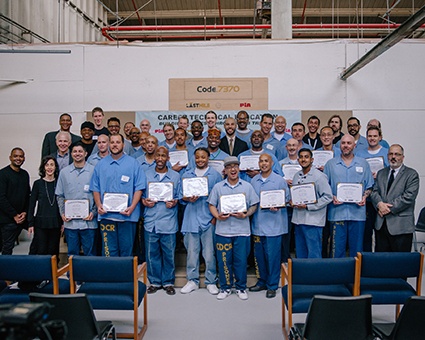 The Last Mile have developed a business and technology education program inside San Quentin, and they did it without any access to the internet. Their goal is to help those who are incarcerated receive proper training and education so they can have a better chance at being successful once they're released from prison. The organization has already seen success with members taking part in their program graduating and experiencing success in the business world. Check out some of Sway Calloway and The Last Mile team's interviews and video footage below so you can see the positive changes they're bringing to incarcerated individuals and their families. Make sure you also log on to The Last Mile Radio website to catch up on all of their latest episodes and interviews, and log on to their official website to get the full story behind their inspiration and success.